We are able to print everything from Flyers to Pull up banners, signage, custom t-shirts and much more, contact us today for a quote on your next printing job. we look forward to hearing from you.
Make your business stand out
We offer graphic design and printing in house for all printing requirements if you have an idea and need assistance bringing it to life call in and discuss your requirements with us we will be happy to assist you with your business needs.
Free COVID-19 artwork Open Sign "Click Here"
Sunbury Printing – Your first choice in printing in sunbury Melbourne
Letterheads
Flyers
Business Cards
NCR Carbon Duplicate Books
T-Shirts Uniforms
Posters
Laminating
Canvas Prints
Website Design
Website Hosting
Large format printing
Envelopes and Stamps
Mimaki JV33-160 and Roland SP300I Eco Solvent printer enable us to print high quality Posters, Vinyl, And Canvas prints. Combined with Ergosoft,  custom ICC profiles created inhouse for every stock and high resolution prints you can be guaranteed your prints will look amazing.
Are you a new business looking to get flyers, brochures, business stationary and other printing material printed in bulk for your brand?
Have you been having a tough time getting your printing order done on time, customised to your requirements and made with good quality material?
Then Sunbury Printing Melbourne is the answer for all your printing jobs dilemma.
There are so many issues that businesses in Melbourne have to face when getting their printing jobs done. Whether it is finding reliable, professional printing companies Melbourne, or a company that will take their order no matter how big or small it is.
Sunbury Printing Melbourne is proud to serve businesses no matter how small or large their printing order is.
We understand how hard it is to find good printing services in Melbourne, which is why Sunbury Printing Melbourne is your best choice as we have a wide array of printing services for Melbourne clients. We are experts in Screen printing & T shirt Printing, Not only that we ensure that only the best and high quality raw material is used to provide a polished and finely executed printing material.
As a company, the trust our clients place in us when it comes to providing printing services in Melbourne on time and with a professional attitude is what drives our company forward. Sunbury Printing Melbourne also has some of the best, market competitive rates you will find anywhere in the city, with printing charges starting $8.
You won't find that price anywhere when it comes to printing companies in Melbourne!
But that is not all.
Sunbury Printing Melbourne provides a range of services to ensure we cover all grounds when it comes to printing different categories of material required by business in different sectors. Whether you are in retail, hospitality, the corporate world or an educational institute, Sunbury Printing has all the equipment and manpower to deliver your order on time.
Some of our services at Sunbury Printing Melbourne include:
Booklets are a great way to display your company's portfolio, the goods you offer or outline in detail a menu of your restaurant in the form of a book. Similarly, when it comes to providing information about your company and services offered during important meetings booklets give a put together and professional look.
Sunbury Printing provides the option to print A4 and A5 sized booklets in full colour and stapled in the middle, printed with the artwork and content provided by you. Similarly, if you don't have your own artwork or graphic design our team is fully capable to provide designing services as well.
When it comes to flyers printing Melbourne, there is no better way to spread the word about any promotional deal, sales etc that are being offered, locally. You can also use flyers to spread the word about any music gig, concert, fair or charity event, and Sunbury Printing Melbourne can get your order done in time without a problem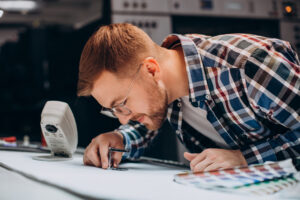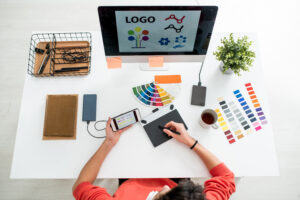 Finding a printing shop Melbourne that not only has the equipment but the capacity to handle large orders for T-shirt printing has never been easier as Sunbury Printing can fulfil any order. We use direct to garment printers for amazing digitally printed T-shirts.
Whether you need T-shirts for your employees or to give it away as freebies during events or meeting with new clients, Sunbury Printing Melbourne will have your shirts ready and printed with your brand's logo and content in no time.
If you are looking for a capable, professional and highly skilled Screen Printing & printing services shop in Melbourne that will get your order done on time and without any roadblocks, then Sunbury Printing is your answer.
For more information about our delivery timelines and price quotes, contact us to day to know more.
Sunbury Printing Melbourne is one of the most capable printing companies in Melbourne that has world class screen printing equipment that allows us to deliver high quality screen printed material to our clients. If you are interested in getting screen printing started in bulk for your business, then contact us for more information.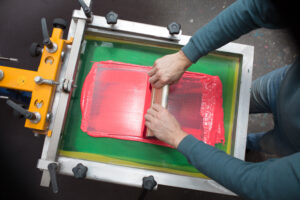 5 Key things you should be looking for from your printing company
1) Customer Service
Range of products, we offer a huge range of products printed right here
in our factory enabling us to control both our production schedule and
2) Quality of our jobs.
Expertise Our staff have over 40 years experience in the print industry.
Established Business we have been in business for over 50 years,
3) Offering stability and security for your future printing.
4) Fair Pricing we are constantly working on our pricing structure to
5) Ensure we remain competitive in the market.